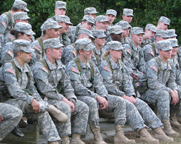 Weekly Schedule

As a contacted Cadet you can expect to take either four or five credit hours of classes each semester. These hours include physical training, classroom time, and Leadership Lab. Combined, these classes take up only about 6-9 hours a week. In addition, Army ROTC Basic Course classes (Fr/So) are open to all full time college students as an elective that count toward academic credit. By taking these classes you do not incur any obligation to Army ROTC or the U.S. Army. If you are interested in Army ROTC check out one or all of the courses offered to see what it is all about!
Physical Training
Physical Training (PT) takes place in the mornings on Monday, Wednesday and Friday each week. The early hours may take a few weeks to get used to but after a while you realize it is a great way to start your day. Regardless of your physical fitness level, Army ROTC incorporates a training regimen that adapts to all abilities where you will be challenged and see increased personal improvement. Each PT session focuses on improving a Cadet's push-up, sit-up, and 2 mile run capabilities in order to set them up for success on the Army Physical Fitness Test (APFT).
Classroom Time
Army ROTC classes are University of Kentucky courses under American Military Studies (AMS). Each class will count for either two or three credit hours. The classes will be offered twice a week for fifty minutes per session or once a week for 90 minutes per session (times may vary depending on what level you are in the program). Classes are normally broken into Basic Course(Freshman and Sophomores) and Advanced Course (Juniors and Seniors).
Leadership Lab
For two hours each week, all Cadets meet  to conduct Leadership Lab. This lab is a hands-on practicum which exposes the Cadets to military skills and affords them opportunities to develop and refine their leadership styles and abilities under differing constraints and environments.   
Every semester the Wildcat Battalion conducts a weekend long Field Training Excercise (FTX) where the cadets are able to practice the skills they have been learning on campus. FTX is generally conducted at a location which is conducive to activities such as land navigation, repelling, and paintball.