Alumni and Friends - How you can help
Dear Wildcat Alumni,
For those who have expressed an interest in supporting the program, please know that your contributions to the "Wildcat Army ROTC Alumni Development Fund" are essential in providing the cadets the best possible leadership development system on UK's campus.  Of note, recent years' contributions enabled us to establish a Cadet computer lab, furnish our new Cadet lounge, provide merit scholarships, offset Military Ball costs, as well as other key initiatives.  Please know that cadets will continue their fund raising efforts, but it is imperative to keep this time commitment reasonable when considering all their other responsibilities.  Given the minimal level of university funding, it is only through your generous support that we are able to sustain the program.
We need support for events including the Army 10-Miler trip, the Staff Ride program, and the Military Ball/Awards Dinner.  Donations can be made through the UK Alumni Development Office for the "Wildcat Army ROTC Development Fund", or directly through the Army ROTC department c/o Ms. Wanda Brooks.  Of note, we will be asking for volunteers to sponsor individual cadets for the Army 10-Miler.  The final team selections will be based on a run-off at the beginning of the semester.  Once the cadets are identified, we will send out the final list, and a donation of $200 per Cadet will be combined with internal fund raising activities to cover registration, hotel, and uniform costs.  Please let me know if you are interested...it's a great way to know exactly who your donation will be helping. 
I am thrilled to be a part of this team, and I am committed to every Cadet, Soldier and Family. These will be exciting times and we will accomplish great things, but we will accomplish them as a team.  I encourage each of you to visit anytime!
Please pass along this note to any alumni who may have slipped through the cracks. If you have any concerns of questions, please don't hesitate to contact our fundrasing CIC, CDT Sterling Lewis at 
sterlinglewis93@gmail.com
, or our department manager, Ms. Wanda Brooks at 
wbrooks@uky.edu
. Thanks again for your continued service and support.
GO CATS!
Sincerely,
Thomas Krupp
Lieutenant Colonel, U.S. Army
Professor of Military Science
On Veterans Day, 2013, we were pleased to rededicate Buell Armory in memory of Colonel Lawrence A. Floro, Jr.  This rededication marked the official end of phase two of the Buell Armory and Barker Hall renovation project we started in 2011.  The project began with a vision to bring the Armory on par with the rest of the buildings on campus and provide a learning and training environment conducive for proper Cadet development.  Senior leaders in the university and an extensive community of generous alumni and supporters of the program believed in our vision.  Together, they teamed to contribute more than $500,000 for the renovation.  With that money we were able to recreate a professional space that welcomes Cadets, athletes, faculty, and prospective students into an environment that fosters intellectual growth and excellence.  Words cannot express how grateful we are to all who supported our vision and contributed to the betterment of our program.
But we are not done.  Under the leadership of President Eli Capilouto, the University of Kentucky continues to build new facilities that support educational excellence.  As a result, outdated buildings are coming down and new ones are going up.  To continue our own vision and support that of Dr. Capilouto, we are pushing forward in an endeavor that will move our current supply facility from an outdated and distant location to the basement of Barker Hall.  Cadets from both the Army and Air Force ROTC programs will benefit greatly from this move as will athletes on the University of Kentucky Rifle Team and students and faculty in the school of dance.  As before, budget constraints will make it difficult to fund the project, but I am confident we can accomplish this important project with the support of those who value ROTC's role in developing leader and academic excellence.
We are actively working with university officials to complete the phase three blueprint and cost estimate and project timeline.  Though we have not yet seen the cost estimate, we believe it could exceed $200,000.  Meanwhile, our supporters are still contributing to the Buell Armory and Barker Hall Renovation Fund.  Between November and December 2013 alone we raised more than $7000.  If you are interested in supporting the project, please donate online at the link below.  Thank you for all you have given and plan to give.  Your generosity will ensure the continued success of developing and commissioning future leaders of character for the Military and the great state of Kentucky.  Please check this site regularly for updates.  GO CATS!
See all photos of Buell Armory here.
For check donations, please make payable to the Buell Armory Renovation
If you have questions or inquiries concerning the initiative, contact Ms. Wanda Brooks at wbrooks@uky.edu.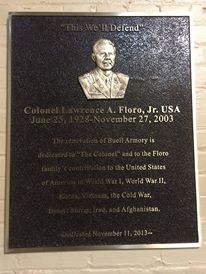 Featured Alumni
Col. Lawrence Arthur "The Colonel" Floro Jr.
Col. Lawrence Arthur "The Colonel" Floro, Jr. was born and raised in a small town of Pennsylvania. He graduated from Randolph Macon Academy – a Military Academy boarding school, earned a degree from Washington-Jefferson College, and obtained his M.S. from the University of Tennessee in nuclear physics. The Colonel served in the U.S. Army for 27 years to include tours of duty in Korea, Vietnam, and Germany. During his career, he earned with outstanding achievement awards, most notably the Legion of Merit and the Bronze Star. After his service, he served as an information specialist for the NASA TAPS program at the University of Kentucky. 
Alumni Luncheon
At t
he Alumni Luncheon, Cadets of UK Army ROTC get the chance to have a good meal and meet with Veterans of the United States Military. This oppurtunity is both educational and enlightening for the future Officers of the US Army. We appreciate all the Veterans who came out and met with Cadets, and gave us a bit of knowledge and insight into military life.